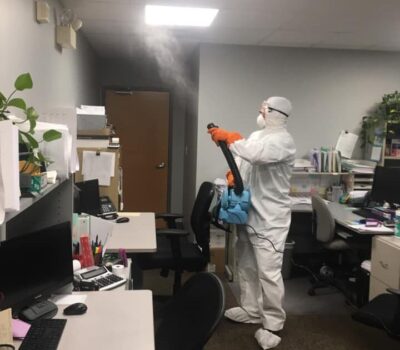 Electrostatic Disinfection
Using traditional cleaning methods is a great first step in disinfecting, however, it is virtually impossible to disinfect every square inch of surface area in a building this way. In reality, germs and bacteria spread into hard-to-reach surfaces and are hiding in many areas that we cannot access with current methodologies and equipment. For sensitive places, like healthcare facilities, offices and schools, there's a more effective method for stripping dirt, dust and germs from surfaces that require specialization sanitation: electrostatic spray.
What Is Electrostatic Disinfection & How Does It Work?
Electrostatic disinfecting is a way of quickly and evenly coating a surface with a disinfecting solution by spraying an electrostatically charged mist onto surfaces and objects. It works by providing a charge to a solution so that it electromagnetically sticks to a targeted surface, providing 360-degree coverage. 
Electrostatic spray is electrically charged, allowing the appropriate sanitizers, mold preventatives and disinfectants to wrap around and evenly coat all types of surfaces for a more complete clean. As the chemical exits the electrostatic sprayer, it's given a positive electrical charge. The droplets naturally seek out and become attracted to all negative surfaces to adhere to. In simple terms, when you spray a solution that is charged with electrostatics, the solution surrounds the area and object. For this reason, electrostatic spray is an excellent solution for germs and bacteria ridden areas.
Protect Your Business and Your People.
If your building contains rooms or areas that are sensitive to grime and germs such as hospital facilities, offices, schools, restaurants or supermarkets, then yes, electrostatic spray cleaning is the best option for cleaning all the surfaces and equipment for your building.
Benefits of Electrostatic Spray Disinfection:
– Reduces the time it takes to cover and disinfect all surfaces and hard-to-reach surfaces by 50% compared to traditional methods
– Improves infection control and the spread of viruses such as influenza, MRSA, HIV and many others
– Applies chemicals in a more efficient, controlled manner
– Improved profitability preventing costly financial burdens associated with infections
Combat Against COVID-19 and Other Viruses.
Get COVID-19 cleaning help from the professionals. Find deep cleaning services, sanitation services, and disinfection services that fit your needs and budget with 24/7 emergency support.